Bothell Stuns Skyline in an All Out Defensive Battle
With playoffs quickly approaching the Skyline Men's Soccer team welcomed in Bothell high school. The Cougars were 0-2-1 in league play heading into Skyline on April 11. The favored Spartans were 3-1 with their only loss coming to the league leading Newport Knights. Making the loss only more frustrating for the Spartans.
Skyline had to deal with an unusual lineup considering Sr. Braden Ferreira [UC Irvine Commit] was not in the starting lineup, and winger Sr. Dylan was scratched from the game entirely. It was the first time in the league where Skyline was forced to rely on its bench players [Sr. Drew Logue and Soph. Jiaqi Chen]. Bothell had its own personnel issues, missing one of their best players due to injury. 
Early, many players were out of position for Skyline as Bothell possessed the ball making Skyline rotate continuously. Skyline made their game plan obvious as it was to be aggressive. This backfired as Bothell continuously counterattacked as many defenders were spending much of the night chasing after Bothell's attack. 
Skyline coach Braman showed his intentions by subbing in Ferreira in the middle of the first half to break the tie. Ferreira unfortunately was unable to get hot and could not come up for the Spartans. Sr. Goal Keeper Arnav Murudkar had an amazing save late in the first half. The Bothell striker had a one on one with Murudkar, but the keeper made an amazing save keeping the game tied 0-0 going into the second half. 
This would follow into the second half as this sequence repeated. Skyline would make a quick run to midfield, Bothell would make their counter attack, Murudkar would save. It only seemed a matter of time until Bothell would finally poke one in. 
With around 15 minutes left in the second half, Bothell striker moved through the gassed defenders putting a ball in the upper left corner of the goal. Murudkar could do nothing more than put a finger on it.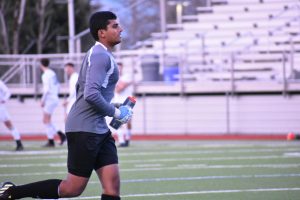 The small Bothell crowd then erupted as Skyline fans fell silent. Skyline then began making push after push but Skyline strikers Eli Jason, James Cairns, and Ferreira were unable to put the ball in the net. As it became clear the game was over in extra time frustration boiled over for the Spartans as a yellow card was issued to Ferreira for a late hit on a Bothell midfielder. Sr. Micah Pommer left the game late with an apparent leg injury and Ferreira had discomfort in his ankle after the yellow card. 
After the game Murudkar weighed in on the offensive struggles
"I mean, just really the final touch, we were there in front of the goal a lot of times and we just couldn't tap one in," Murudkar said. "I think going forward it's getting in that finish and we should be good. It's a tough game but it's a good wake-up call for us. 
A wake up call that questions the team's ability to maintain composure while dealing with roster injuries. 
"I think we were still fired up ready to go," Murudkar stated.  "It was definitely an adjustment playing with players who may have not been playing in new positions. So it was more of a personal standpoint, but morale we were still good. It was Missing chances that affected us. 
Skyline last year went the distance finishing second in all of 4A for Washington state. With a strong group of seniors there's no reason Skyline can't do it again. It all begins with how a team responds after a loss.
"Early practice tomorrow, game Thursday and we really gotta win if we want to make it to the playoffs. And have some success deep into may," Murudkar said. "It's a must win game on Thursday" 
That's just what the Spartans did as they cruised through North Creek with a comforting 4-2 win. Proving that the loss to Bothell is all part of the plan. Fans can catch the next soccer game this Tuesday at Pop Keeney vs Woodinville at 5:30 p.m.