Skyline's Longest Tenured Coach Strives For Player's Success On and Off the Field
In the 2021-2022 Washington 4A state championship, Skyline high school took on formidable favorites Bellamarine Prep in the winner takes all game. The Skyline Spartans came up short after a fiercely contested game marked by constant fouling and disruption, as well as a missed penalty kick. The Spartans had an incredible season, but they came up just short by a single goal, leaving players, supporters, and parents feeling deeply disappointed. In the midst of all of the commotion, Coach Don Braman, an awe-inspiring entity of superior might, stood in the middle of the inferno. 
Coach Braman, who has been coaching the boys soccer program since it first started in 1997 and girls since 2001, Coach Braman's love for the game of soccer was as intense as the sun. He had experience with the sport as a young kid and was deeply familiar with its complexities. 
His three boys have either all played or are now playing in college at the next level. When he was offered the opportunity to build a soccer program from scratch, he seized it with both hands, determined to leave a lasting impact on the students and the community. 
"I just love being around the game," says head coach Don Braman. "I may be too old to play the sport at these guys' level but the joy it brings me coaching these guys is more than enough."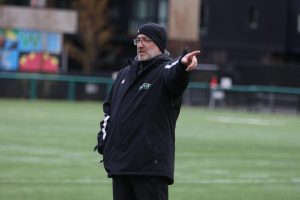 Coach Braman gave everything he had to the soccer program over the years. He has devoted numerous hours to setting up sessions, formulating plans, and teaching his squad the importance of discipline, perseverance, and working as a team. He was aware that the fundamental meaning of the game went beyond victories and defeats. It was about strengthening his team's character, creating enduring friendships, and imparting important life lessons. 
"He's like a second father to me," says senior Co-Captain Eli Jason. "He's taught me so much through the years and has not only shaped me into the athlete I am today but also the person I am today." 
Under Coach Braman's guidance, Skyline High's soccer program flourished. The girls team recently won their sixth state title, making Coach Braman the most successful coach in 4A state history. However, Coach Braman's impact went far beyond the awards and trophies. 
He cultivated a safe space for players to express themselves, both on and off the field. Students at Skyline High continued to play soccer year after year, eager to learn from the renowned Coach Braman. Coach Braman gave each athlete the same amount of consideration and commitment while also recognizing their own strengths and goals. He relentlessly worked to reveal each person's hidden potential because he believed in their ability to succeed. 
"I remember first moving here and on the first day of tryouts Braman came up to me and made me feel like I was meant to be here," says senior Co-Captain Jungwoo Ryu. "He's tough but I know he's doing that to make me the best I can be and I think that's why he's been and still is one of the best coaches I've ever had."
As the student-athletes grew older and progressed through their high school years, they faced challenges both on and off the field. There was Coach Braman, a constant source of support and direction. He gave the players a shoulder to cry on, a listening ear when they wanted to vent, and a voice of reason when they had to make difficult choices.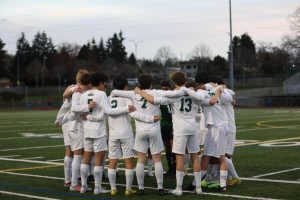 "Just hoping for the best in these guys, they are all great people and I want them to see how awesome you can make this sport as long as you enjoy it," says Coach Braman. 
Each player eventually graduated from Skyline High and went on to college and beyond to pursue their aspirations. While some followed other interests, others kept playing soccer throughout college. Nonetheless, they carried the valuable teachings imparted by Coach Braman throughout their respective life journeys, embracing diverse professional paths as doctors, teachers, lawyers and engineers, while forever cherishing the profound influence their soccer coach had on their personal development. 
After almost 30 years of coaching for the Skyline soccer program, Coach Braman's still coaching to this day. Former players and supporters from various generations still gather to pay tribute to the man who had an enormous influence on their lives. His influence extended far beyond victories and defeats; it focused on developing young people into resilient, caring, and self-assured adults. The community he had established would endure, passing along his principles to succeeding prospects. 
"Those four years on the Skyline Varsity team influenced my life greatly," says former player and current Santa Clara student Charlie Gall. "I'll never forget those years and what Braman taught me in the next chapters of my life." 
Nevertheless, Coach Braman of Skyline High School and the entire school community eagerly await a significant milestone. With an impressive coaching resume spanning several decades, Coach Braman has achieved remarkable success, securing numerous accolades such as winning girls state championships, KingCo championships, and esteemed coach of the year honors. 
However, there remains one coveted chapter that Coach Braman is working for: winning a Boys State Championship. Despite falling just short in last year's finals, Coach Braman and his determined team have returned to the field this year, adamant in their pursuit of the coveted championship trophy. 
As playoffs begin to start, the burning question arises: will the renowned Coach Braman orchestrate one of the most extraordinary narratives in school history, or will his dream narrowly end? The answer remains uncertain, ensuring an enthralling climax.