On Saturday, November 4th, Skyline's Competitive Cheer teams scored number one overall in the UCA Regional Cheer Competition at Gig Harbor High School, placing 1st and qualifying for UCA nationals.
Of the 25 teams from 16 schools that competed in the competition, Skyline's JV Traditional Silver, Varsity Green, and Varsity Coed Platinum teams all scored the highest in their respective divisions. "As a team, it's exciting because it's Skyline's first time back in an in-person Regionals competition," says Yasmin Farhad, one of the captains on both Varsity Green and Coed Platinum teams. "We usually don't start competing until late November, so it was a great boost in confidence to hit our routines and win multiple divisions so early. It proves our capability both to ourselves and others."
For the team, the set of wins is a result of practice, discipline, and hard work. "We practice quite a bit," says Farhad. "Each team has their own separate time so we can focus on one routine at a time, but there is some overlap so we can bond and work as a full program."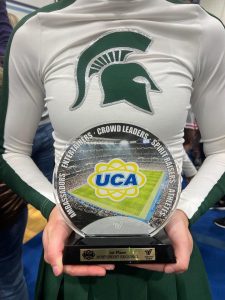 The process began in August when the teams began to learn their routines, and from there, they prepared for the competition date. Practices themselves were extensive, beginning with a light warmup before starting on the "cheer" section of their routine.
Then, the teams shift their focus onto the competition and begin to full-out. "A full-out is a complete run-through of our routines when we throw all of our stunts and skills." Explains Farhad. "The team then throws another full-out after a round of critiques from the coaches to fully flesh out the routine." Teams practice 2 to 3 times a week, with practices ramping up in number and intensity as the day of the competition nears.
The competition day itself is long and intense. The day starts early, according to Stephania Gullikson or as students often refer to her, "Mesh". She's currently a teacher at Skyline and the head coach for Skyline's cheer team. "We arrived at 6:30 [am at Skyline], we boarded the bus, and we arrived at Gig Harbor at 8:30."
First go the traditional teams, JV Silver and Varsity Green. "The stunts [in traditional] are way more complicated so there's a lot that could go wrong," says Bella Moraes, a Senior at Skyline and a member of Skyline's Varsity Green and Platinum teams. "Traditional is a lot of [elite] stunts… So if a mistake is made people could get hurt."
As a result, the atmosphere leading into the traditional comp is tense. "I usually try and listen to calm songs to calm me down before comps, or try and talk to the newer kids who may be more anxious." Maraes said.
Once the traditional teams are done, it's time for Skyline's Platinum team to step up. While the traditional teams focus on complex stunts and routines, Skyline's Platinum team has a different priority.
"For Platinum, it's all about performance, game day, motions, jumps, and dance." Says Coach Mesh. The Platinum team consists of both Green and Silver players, requiring a unique skill set from its cheerleaders in order to bring the sideline cheer that students see on game day to a higher competitive level. "People that can create a fun game day experience on the sideline, those are the people you look for," said Mesh when asked about how Platinum members are chosen. "Game Day is a division where nationals are looking for what [the cheer team] would look like at your school and how you carry out your traditions under those Friday night lights."
The set of wins is rejuvenating for the team as they look forward to the season. "This win was really exciting because through COVID we've been rebuilding," Mesh said. "This year I finally feel like we're back to our past competitive excellence standards and the athletes have had time to grow in their skills and work with all those years they lost during the COVID era. But more than anything I love to see the joy on their faces."
"For me as a captain, it means a lot because I saw my team come together fully for the first time this season," says Farhad. "Honestly, I was a bit afraid at first because we had some rough patches last year as a team, but this win has shown me how our team this year has all of the heart, soul, and strength we need to keep us tight-knit friends. I love how this team is progressing and I cannot wait to see what the future holds."
As a result of the bid earned during UCA regionals, our Skyline Cheer Team will be heading to Orlando, Florida at the ESPN Wide World of Sports Center during the second week of February to compete in UCA nationals. Good luck Spartans!