Spartan LAX Team Starts Off Season After Winning State Championship
Rumbling and screaming erupted from the sidelines as a stampede sprinted through the rain as the clock hit zero at the Starfire stadium. The pit of students and players on the field marked the moment that the Skyline Lacrosse team won the state championship. 
A year ago, the lacrosse team brought a trophy home to Sammamish in an exhilarating game against Skyline rival, Issaquah. Now, a new season is starting and the Skyline team is getting ready to kick off the season with a home game on March 17th against O'Dea High School at 8 pm. 
High School sports are nothing like professional teams where the same players stay on for multiple seasons. Every year, seniors leave, new freshmen come in and people quit the closer they get to college There is no constant or guaranteed return player. Once a team reaches the top, there's nowhere else to go except for down; so the goal is to maintain that standing. 
But can prove to be challenging when a squad is constantly changing every year. Old players put pressure on themselves to live up to last season's expectations, while new players strive to level up to meet the standard set by previous teams. 
Coach Samuel Hutson recognizes the pressure players put on themselves but works to build the team through tradition and community within the Skyline lacrosse club, stemming all the way back down to kindergarten. 
"It goes back to why I coach lacrosse and that's community. Yes, we're a varsity team but we go from kindergarten to 12th grade," said Hutson. "Our high school players right now are coaching kindergartners through 6th grade, they're back with the community." 
 Tradition is so important to the lacrosse culture at Skyline that it's printed on the back of their warm-up jerseys this year. That is how they maintain the culture around lacrosse even with new players coming in every year. 
Challenges will ultimately emerge throughout the season, one of the biggest ones facing the lacrosse team this year is injuries. Both senior captain Beckett Monday and junior captain Nick Vermuelan commented on how injuries and staying healthy will be a struggle for the team.  
"We have lots of talent on our team this year," said Monday, "injuries always happen, but we are trying our best to condition and train to overcome them."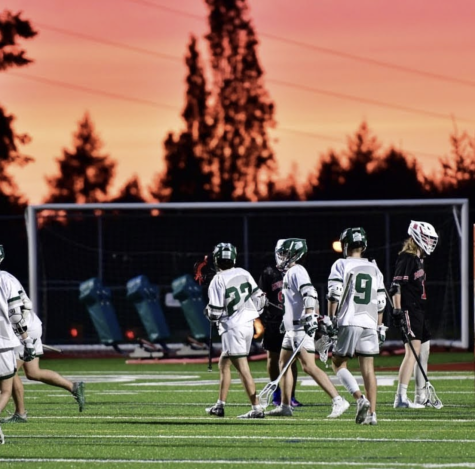 Despite some injuries before the season and new players quitting, the overall vibe of the team is excitement and positivity. Hutson and Monday both feel strongly in the team's ability to tough it out and get through challenges together. 
"I just see so much positivity out of the team," exclaims Hutson. " I really think the world of our leadership and I think they'll keep us on track." 
"All our guys will play our hardest andleave our hearts out on the field," Monday said.
The team will strive to uphold the ideals of tradition and community. Supporting each other throughout the season, and understanding the "importance of work ethic and doing every little thing perfectly" said Hutson; there is no doubt that Skyline lacrosse will keep a strong mindset.
For more information about the Skyline lacrosse club and varsity game schedules, visit their instagram @skylinespartanslax or their website https://skylinelax.com/.