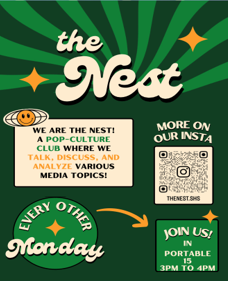 The Nest, a pop culture club based in Portable15, recently held a watch party of the found footage style movie "Chronicle" (2012).
According to The Hollywood Reporter, the film holds some of the highest quality effects and plots for its given budget and genre. The ability to move cars, have characters fly and implode items were greatly thought out, as you can see the effort in pre and postproduction throughout the picture.
Although some critics argue that the film lacked plot, other rotten tomato reviewers claim the more realistic approach allowed for easy viewing. The contemporary, innovative presentation of the teenage perspective was a notable example of behavior and growth among young adults. David Denby from New Yorker claims, ""Chronicle" is a mildly experimental commercial film, and, for the most part, it's loose-limbed fun."
Keyah Chan, Co-Founder of The Nest believed the dynamical shift between characters helped thicken the intensity of the feature, as the bond amongst the friends was progressively dissipating during the periods of them figuring out the capabilities that come with their superpowers.
"The way it was filmed, it was just like with a camcorder, which I thought was really interesting and just like, I don't know, really sudden twists and things like that, like how different the dynamics changed after they got powers." Chan said.
The movie was originally picked based on a fellow member of the club's suggestion, as all contributors got to include what they want to see in future meetings. All genres, subcultures and ratings are considered for future meetings.
The clubgoers appreciate the recognition of all aspects of the media, as it connects to all different interests and ideologies. Cooper Linzbach, Social Media Manager of the club states how crucial pop culture is when regarding the world and overall society. From News outlets to private conversations, pop culture is almost always a key factor in how today's civilization shaped into what it is.
"It's changing lives, because pop culture and forms of media is something we consume on a daily basis" Linzbach claims.
The overall impact The Nest has left on Skyline is its unique advantage at scoping out at least one topic every individual is interested in. Anyone who has access to technology and public advertising can find themselves in a subject of their choice. The owners and team welcome everyone willing to explore pop culture to invest in The Nest.
"We welcome anyone who wants to join and of course as always, topics we talked about will be discussed amongst the members and decided by the members"